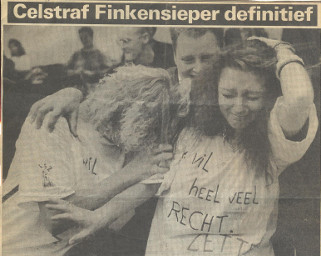 Support Group Zetten, against Child Abuse
Support Group Zetten, was founded by people who have been abused in institutions for youth care. It started off with the infamous 'Case Finkensieper', a leading figure in the field of reeducating 'difficult educable teenage girls'. His philosophy: "These type of girls are like crusts of bread: you must pulverize them to bake new bread". He had them put in isolation cells and injected them with heavy tranquilizers when they refused to obey. Many teenage girls have been raped over and over by this well respected professional. Some of them got pregnant. Fred supported the organization by doing the overall coordination of the office, campaigning, organizing monthly 'self-support' evenings for women from all over the country, and by raising funds for the organization. Thanks to the Support Group, leaded by Annie Bijnoord, Finkensieper ended up in yale for six years and died just after he was released. In addition to the case Finkensieper many other cases of abuse in youth care were dealt with.
Annie Bijnoord: "Fred's support in fulfilling our objectives was enormous, especially since he had no experience in working in the Youth Care sector at all. The work and cases we constantly had to deal with went hand in hand with deep emotions and abruptness. Fred could really get very agitated by the injustice done against people, especially children. His remark "anger is the reverse side of crying' really characterizes him."