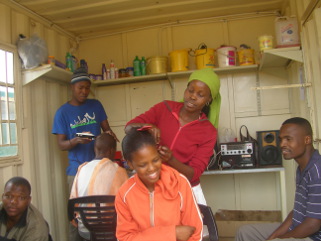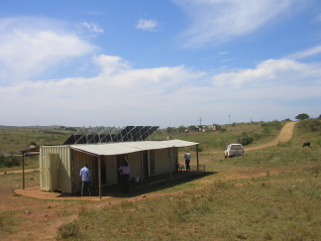 Kwazulu Natal South Africa, Productive Use Containers
In eight rural and remote villages in Kwazulu Natal, Oxfam NOVIB established converted shipping containers for business purposes to benefit the poor, in cooperation with local authorities. Each container provides for small business space, powered by solar energy, for two till five small entrepreneurs. Haircutters (see picture), mobile phone chargers & ICT entrepeneurs, shoemakers, sewing cooperatives and others benefit from these Productive Use Containers. One retrofitted container is being used as a local cinema for several communities in the region. Fred was hired for due dilligence and to test the pilot project on substantive and financial feasibility. Fred worked out funding and finance opportunities. in order to roll out the concept for further replication in both South Afirca and other African countries.
Afaa Nkama, local partner E+Co South Africa about Fred : " ....