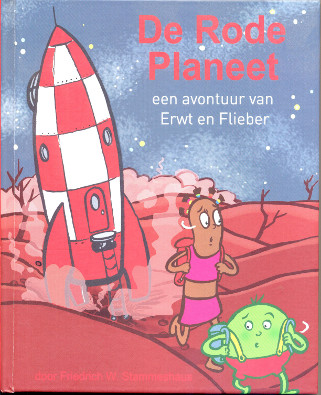 The Red Planet (book for children)
Adventure Book written by Fred, for reading to kids (5 - 8 years old). And for kids to read themselves (aged 8 - 12).
"The stories are funny, exciting and very accessible for kids and their parents. They stimulate the imagination for stars, planets and the galaxy. I can imagine that especially boys enjoy the setting and the story" (The National Literature Fund for Children, Agnes Vogt).
"Its a coherent and good story whereby the beautiful illustrations fit well. An impressive manuscript" (publisher Lemniscaat, Monique Postma).
"I have read the book three times!" (Leander, 10 years old)
"My son Micah (6 years old) is almost obsessive in his yearning to get on with the story. He keeps the book close to him, under his bed." (Arno van Amerom, reading the book to his kid)
"My daughters keep on asking me when you have finished the next book" (Jaap Draaisma, reading the book to Kato (11) and Zinah (9).
ILLUSTRATIONS: OLIVIER RIJCKEN www.oli4rijcken@xs4all.nl
PRINT: BLURB.COM
ADVICE: EVELINE DOOIJEWEERD
EDITORIAL AND ADVICE: ROBERT ASPESLAGH
"I know Fred from the time when we established De Bonte Zwaan, a former ship that was converted into business space for the creative industry in Amsterdam. He is extremely accurate. His social attitude, enthousiasm and somewhat cynical sense of humor make him a great person to work with." (Robert Aspeslagh)